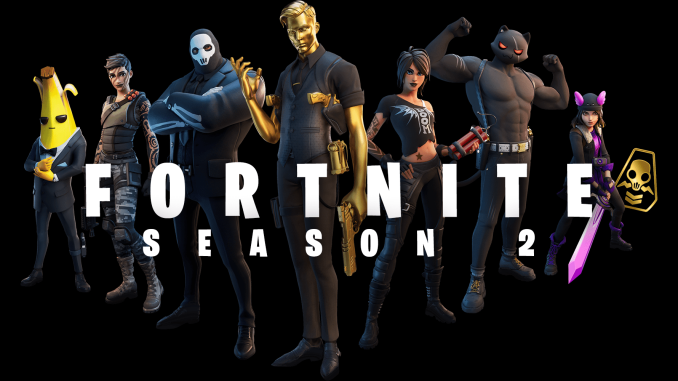 Fortnite Chapter 2 Season 2, now known as Top Secret, is officially here, and that means a brand new battle pass, new cosmetics, and myriad map updates.
We had a heck of an inaugural season with the start of Fortnite Chapter 2. A new map, new systems, new items to play with, and nary a Baller vehicle in sight. The question on everyone's mind: What comes next?
After officially the longest season in the history of the game, and by quite some distance, battle royale players have been chomping at the bit to dive into some new challenges and features. So, here's a handy breakdown of all the additions Epic Games has brought to the part for Fortnite Chapter 2 season 2. There's still time for our Fortnite 2020 predictions to come true, too.
Fortnite Chapter 2 Season 2 has started
Fortnite Chapter 2 season 2 releases on February 20. That's today, in other words. So what are you waiting for? The battle bus is ready to set off and unleash you into the refreshed battle royale map. RECOMMENDED VIDEOS FOR YOU… 5 ways Cyberpunk 2077's gameplay demo lives up to the hypeThe time has come. Now you can finally see Cyberpunk 2077 in action as CD Projekt has released a 48-minute gameplay video into the wild, and boy is it good. However, there's a lot to digest in those 48 minutes and 22 seconds. So to help you get to grips with it we've picked out several things that proves the demo lives up to our rather elevated expectations
There aren't loads of Fortnite Season 2 map changes
So what refreshed map can we expect to dive into? While we could never expect the scale of revamp we enjoyed with the first phase of Chapter 1, the map doesn't look drastically different. There are a smattering of new landmarks and points of interest, however.
One of them is Apres Ski, which is a banging party barn south-west of Misty Meadows. It's also tied to your first major challenge, so be sure to check it out. Then there's Oil Rig—which some leakers already predicted—off the coast Slurpy Swamp. That's the spot where we'll be dealing with some 'Henchmen' as part of future challenges. On top of that there's a yacht and an underground, shark-infested cave,
Check out the official Fortnite Season 2 trailer
This season's trailer sets up the secret agent theme. James Bond-esque tunes ring out as the Epic's nightmarish characters do various secret agent-y things. Could there be a No Time To Die crossover when the latest Bond flick arrives in April? I wouldn't rule it out.

https://www.youtube.com/watch?time_continue=1&v=JgPXMxW7zJk&feature=emb_title
Welcome to the Fortnite Season 2 battle pass
The gameplay trailer above shows off some of the unlockable Fortnite Season 2 skins in action. Among them is the much-rumoured King Midas, along with unnervingly buff cat, Meowscles.
While the structure of the battle pass remains similar—you'll still be grinding through the levels with the help of challenges and Victory Royales to earn you to the loot you want—the in-game menu has enjoyed an upgrade. Now you can access your challenges in the central table surrounded by the new characters, kit your new heroes out, and access a secret vent that may eventually see us unlocking the Merc with the Mouth himself: Deadpool.
Everything else you need to know about Fortnite Chapter 2 Season 2
Battle royale players are still scouring the world of Fortnite for all the new features in the game—it was almost a 10GB update, after all—but here are some other points worth highlighting:
Despite the leaks suggesting that helicopters were flying in, they haven't appeared in-game at time of writing.
Players choose between two agencies—Ghost and Shadow—with whom they will tackle time-limited missions and challenges that'll eventually lock in certain cosmetics.
Keycards are cropping up that seem to unlock loot-filled secret areas across the map.
Damage trap, bolt-action sniper rifle, SMG, and some rocket launchers have been unvaulted.
You can disguise yourself in phone booths.